Here at moetology, I believe that moe isn't limited to the anime medium. In fact, to properly study (and appreciate) moe, one must begin with anime-style art1, as that is the fundamental component of all moe mediums, be it anime, manga, games, light novels, or visual novels.
And so begins my second column: Art Corner. This column will highlight moe art and art trends, and to help you, the reader, discover new artists whom you may have never heard of before. The first column features an impressive illustration by 藤ちょこ. Enjoy!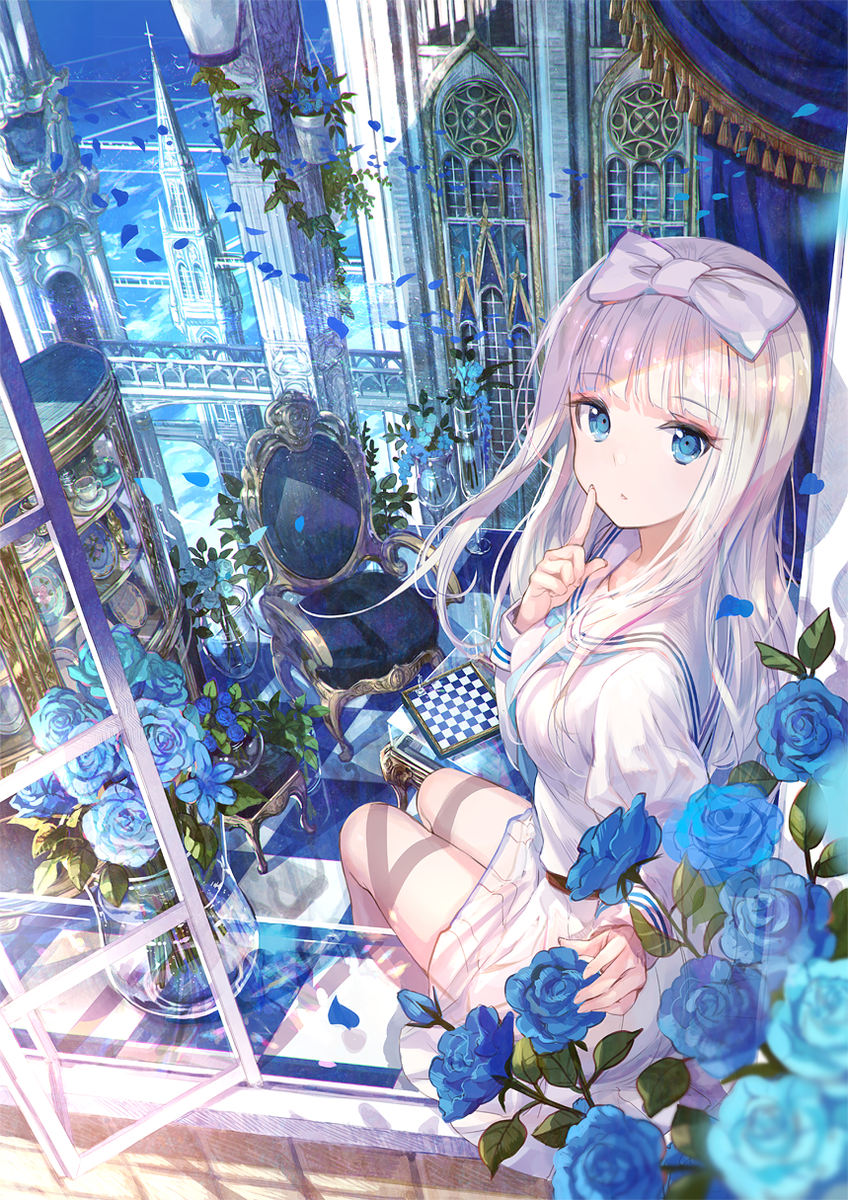 Title: アリスの青い庭 (Alice's Blue Garden)
Artist: 藤ちょこ (@fuzichoco, pixiv.me/fuzichoco)
Origin: Advertisement illustration for Nippon Manga Academy of Fine Arts
To say that "this illustration is impressive" is an understatement.
I begin this column with the most-liked original illustration on pixiv for the entire year of 2017 (by my own limited investigations, anyway). In the world of anime, 藤ちょこ is still relatively unknown; according to MyAnimeList, she has contributed illustrations for 14 light novel series, none of which has been adapted to anime yet. But if you were to spend a few hours on pixiv browsing randomly, you would no doubt encounter one of her many drawings.
For several reasons I consider 藤ちょこ my most favorite anime-style artist right now. While her character designs aren't at the top of my rankings (stay tuned for future columns), her drawings as a whole ooze a sense of refinement and purity that few others replicate. Her art are highly detailed, the settings often Gothic/European (such as the illustration above) or East Asian, and are themed by colors (in this case, blue).
This illustration, from the top to bottom, foreground to background, the living to the non-living, are all places where the eyes may be drawn to due to their details and colors. The subject herself is attractive enough; the curves, her bare thighs, the white sailor uniform and long silvery hair, even her hushful finger, are each lusted by otaku of different tastes.
Yet equally demanding of attention is how blue the entire scene is. In this illustration, blue is majestic and fantastical. The vast blue and blue-tainted whites in the distance suggest that the towers are floating in the sky. The blue roses add to the fantasy, since they do not exist naturally (TIL, thank you Wikipedia). The blue chair and curtain carry with them an air of nobility, complemented by a blue-and-white chess board, an oft-used symbol of the well-to-do.
The only place where blue does not dominate is the foreground. The light originates from the left foreground, dousing plenty of photons on our beauty in the window, exposing her white uniform and skin in their brightest tones. The foreground is another interesting angle; even though the viewer is looking from the outside in, the room's glass walls give to an expansiveness that makes the viewer feel like he's looking from the inside out instead.
Illustrators like 藤ちょこ defy the lewd perceptions that the general public may have about anime-style art and show that even "mere drawings" of moe characters can reveal the skills of contemporary masters. Take some time and study this piece; maybe you'll find a new reason to appreciate moe art as well.
Footnotes
For lack of better term, "anime-style art" is what I'll call (until I find a better phrase) illustrations that were drawn in the moe aesthetics originated from (but not limited to) Japan.