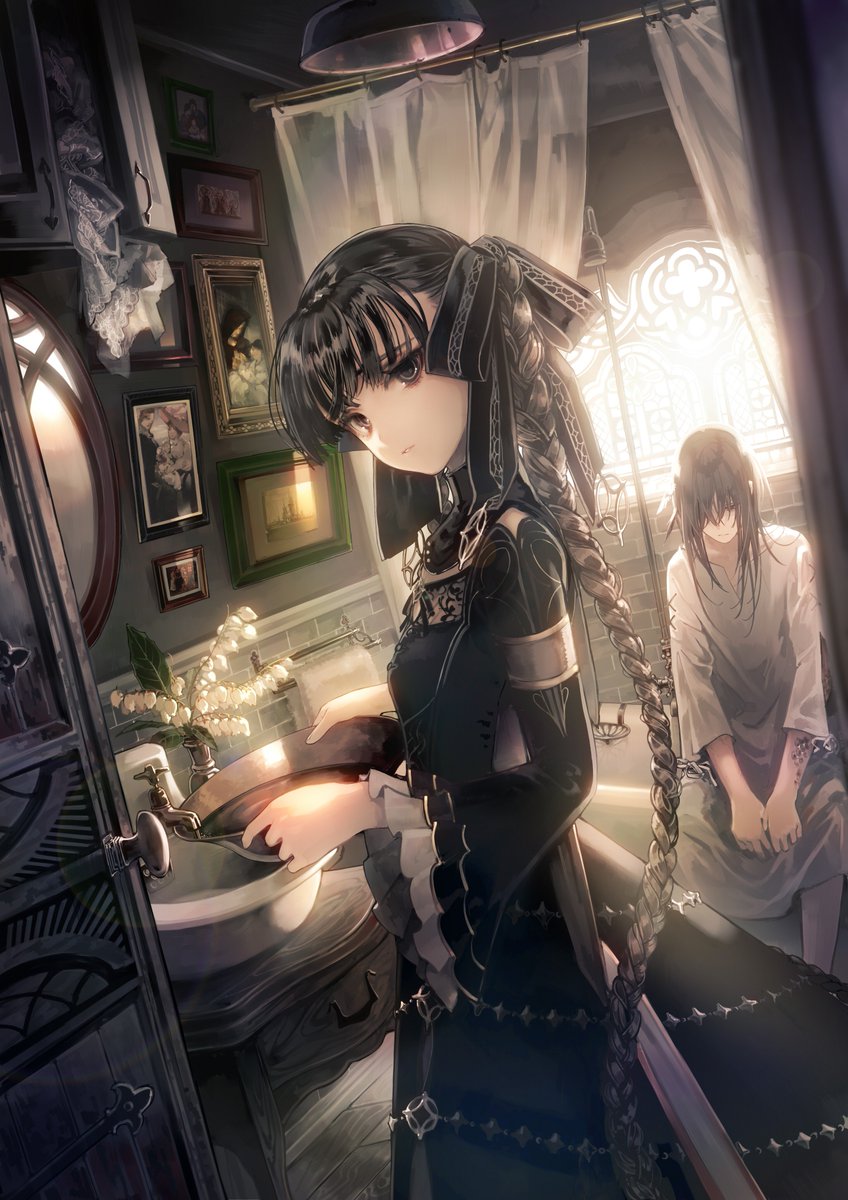 Title: その愛は癒えずとも (The Love That Cannot Be Healed)
Artist: 鵜飼沙樹 (@ukaisaki, pixiv.me/ukaisaki)
Origin: Light novel illustration for 異世界迷宮の最深部を目指そう (Aim the deepest part of the different world labyrinth), volume 9.
I must confess. I originally had another artist lined up, but I hit the writer's block. And then I found out that one of my favorite light novel artists finally joined Twitter a few days ago. What better time to introduce an anime artist who is, frankly, one of the best in the business?
Among anime fans, Ukai Saki is best known for her illustrations for the Black Bullet light novel series, which was adapted for an anime in 2014. When I watched Black Bullet back then, I thought nothing of art; it was adequate for the anime, the content of which was plagued by typical teenage light novel cliches. I didn't pay Black Bullet any thought afterwards.
And then I found her artworks on Pixiv. I was awestruck by her pieces; I have seen plenty of light novel illustrations by other artists, but none looked as dark or as foreboding as hers. It wasn't till a while later that I realized that she is the light novel illustration for Black Bullet, and immediately felt a tinge of sadness as the anime adaptation reflected none of the qualities of her art.
While she is not a prolific Pixiv uploader, she almost always uploads in high resolution (i.e. >2MP), a nice bonus given how much details she crams into her light novel illustrations. This piece, その愛は癒えずとも ("The Love That Cannot Be Healed", forgive my weeb Japanese knowledge), is no different. Zoom in enough, and you can see the patterns on the woodwork, as well as the fluffiness of the white hand towel.
The scene is dark, with much of the room covered in shadows. The girl dons a heavy black dress, the skirt seemingly worn over a crinoline, and her jet-black hair braided into a long ponytail and secured by a black ribbon at the base. It's all reminiscent of the Victorian Era, which is probably my most favorite in terms of anime fashion.
It is a shame that Ukai Saki rarely shared her non-commissioned pieces with the rest of the world, but I hope her joining Twitter will change that. I especially hope that she will release an artbook of her works in the future, something that anime artists do once they reach a level of popularity. In the mean time, if you like her style and want to see more, be sure to check out her Pixiv profile and follow her Twitter account (links above).